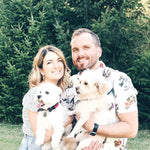 miFLAVOUR's Story
While we all know the classic tale of boy meets girl, this one has a journey to the sweetest of ends. Max and Ella Piskun met and began dating several years ago. Ella, being the amazing pastry chef she is, made Max the now famous Adeo Jr. for their second date. It was literally love at first bite. Max knew this creation and others like it needed to be shared with the world and his entrepreneur skills were just the thing to do it. They began talking about opening a modern French bakery. The more they did, the more they fell in love with the idea, but more importantly, in love with each other. They tied the knot and started miFLAVOUR. Through trials, kitchen disasters, and lots of love and laughter, they were able to bring the world the amazing café and bakery that miFLAVOUR is today. 
What miFLAVOUR Offers
miFLAVOUR offers a variety of desserts, savories, beverages, and services. From fresh churned Italian gelato, fresh squeezed orange juice, chewy macarons, crisp croissants, and decadent cakes to services like corporate gifting, wedding cakes, custom cakes and even catering services, miFlavour's offerings are vast enough to delight any taste or occasion. But what makes them different? Is it the widespread taste range or the knowledge that each item is carefully created to be a delight to all the senses? While those are true, the truly most unique thing about miFLAVOUR is the standard to create every single piece of every single item from scratch by hand. The cake decorations to the chocolate coated candied oranges to the finishing garnishes on every item is created by hand from the incredible bakers behind the scenes. It is also that miFLAVOUR's standard is to search locally for the finest ingredients, but Max and Ella aren't afraid to import those things that are just incomparable to the ingredient's birthplace.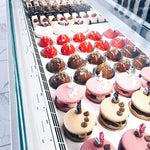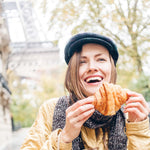 A True Parisian Bakery
Is miFLAVOUR a true Parisian patisserie? The answer is a resounding YES! Ella and Max wanted to make sure that the bakery and café they envisioned would be true to its inspiration. So, they packed up and hopped a flight to the City of Lights itself. They spent several days wondering the sights, indulging in every patisserie they could find, and realizing exactly how on point their direction truly was. Their creations back home were so perfectly exact in replication of the French ones from Paris, that even those who have lived there can't tell the difference. It was leaving that amazing place that was truly the biggest disappointment of the trip. But they knew to finish creating their incredible dream, they needed to come home so they could bring Paris to the States. 
Thrilled to be a miFLAVOUR employee
Ella had worked in several commercial kitchens and seen on a firsthand basis how often food workers are not treated well. Sometimes their treatment is downright dismal at best. Max, on the other hand, came from a professional company that not only treated its employees well, but praised and promoted hard work. His company offered growth and validation for the employees who tried hard and did their best. Max and Ella both knew that by offering employment to people based in kindness, validation, understanding, and offered growth and promotion, they would attract potential employees who would want to do their best and build a business that they could take pride in. Ella and Max have done just that. Their employees love to come to work and take great pride in everything they do at miFLAVOUR. Please head over to our MEET THE TEAM page to see who the boots on the ground of miFLAVOUR are.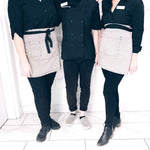 DID YOU KNOW THAT WE ALSO HAVE TWO SISTER COMPANIES?
Here is what our customers are saying about our business!
Every time I go in there, the staff is so cheerful and helpful. The business itself is beautiful and impeccably clean; the display of goodies always immaculate and enticing. I feel like a kid in a toy store when I walk in. I haven't yet bought something that I didn't just adore.
Dahdia B
Exquisite craftsmanship and taste, beautiful to look at and delicious! I love this Bakery's uniqueness and friendly staff. It has been fun to watch them grow, hoping for continued success into the new year!
Bonnie G
The best French bakery around! I used to live in France and can guarantee that these are the closest, most authentic and most delicious pastries ever!
Ruthie M
This bakery is magnificent!! My hubby and I went to France last summer and the presentation of MiFlavour's bakery items reminded us of France!!... The store is bright and clean, very welcoming! Classy! The staff are neat, attentive and very friendly. Love this bakery!!
Kersti W