CUSTOM CAKES
We specialize in custom cakes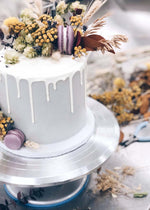 Spokane's premier custom cake shop
We are grateful to see that you considered miFLAVOUR for your next custom cake order!
Regrettably, we will not be able to take your order.
Our business has grown so much in the last year that we can't keep up with the demand across all of our departments. Every day we work on making happy customer by handcrafting, completely from scratch, our individual desserts, espresso beverages, gelato, savory sandwiches, pastries, croissants, wedding cakes, custom cakes, serving dine-in, preparing takeout, making deliveries, fulfilling nationwide shipping, and much much more.
Every single customer is important to us and we want to make sure everyone receives 100% customer satisfaction, and no one goes unnoticed. To make sure that's possible, we had to make a few tough decisions and temporarily suspend our Custom Cakes and Wedding Services department. This way we can focus on making sure we can continue focusing on what we do best.
We will activate the wedding consultation request form on this page when we are ready to take offer wedding services once again.
Visit our LOCAL MENU page to view all the delicious desserts we offer every day.
We are deeply sorry for any inconvenience this may cause. Merci! - owners, Max and Ella