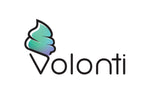 Volonti | miFLAVOUR Sister Company
... Before they started the new gelato company, Ella and Max spent months researching
and traveling to find the right combination of flavors ...
Testimonials
I'm a big ice cream guy... I must say, this is quality ice cream. The flavors are varied and delicious. It's rare that an ice cream place has more than a couple of flavors I really like and Volonti has six favorites. Amazing. 
Jose G
The most delicious gelato and melt in your mouth waffle cone! It's almost too beautiful to eat, almost :) Most definitely recommend! You will not be disappointed.
Liya C
The most authentic gelato in Spokane! Love their rotation of flavors, and their sorbetto options are soo delicious for being dairy free! Love the ambience and plant wall here, too.
Kerrina Z
This ice cream is already amazing, but the fact that you can get it wedged in a macaron is just the right amount of over-the-top for me. I'm a huge fan of the MO sandwich!  
Taylor M