SIT DOWN DINE-IN
When you need a holiday in Paris but can't catch a flight, come to miFLAVOUR for our one of a kind dine in experience. You will feel like you have just stepped into the peaceful world of a classic French patisserie. With a minimalistic and clean design, miFLAVOUR offers the perfect place for a date night out, a cup of coffee with friends, or enjoying that book you've been dying to read while you drink your coffee and delve into decadent desserts. Our café is always safe, clean and sanitized hourly. 
It's the perfect place to never feel rushed, and just relax into a classic French experience. Whether you are diving into your much needed espresso and you time, or crunching into a flakey croissant sandwich with friends, you are sure to feel like the world is off your shoulders even if only for a moment. So, take a minute to just be when you join us in our little slice of heaven. You will be surrounded with macarons, fresh churned gelato, ice cream macarons, buttery croissants and flakey pastries. Don't forget to grab that fresh squeezed orange juice or even a mimosa to go with your baked goods. 
miFLAVOUR is also the best place for that insta-worthy picture! Our delightful greenery wall and our stunning Broken Wings Mural are the most amazing places to capture that perfect moment in time. Our amazing staff is happy to fetch a little stool to stand on for the mural should you require it to make your shot perfect. So, come join us for that modern French café experience you've been dying for. Even the French and those who have lived in France are more than please to come.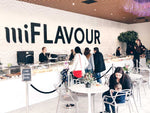 DELIVERY
Here at miFLAVOUR we do delivery a little differently. As the go to modern French bakery in Spokane, we strive to provide the best experience for delivery possible. That means we take doorstep delivery to the next level with our in-house delivery service team. While you can also find us on Grubhub, Doordash, UberEats, and Postmates, you can also order directly through us.  
You can use: 
miFLAVOUR mobile app 
Our website 
or if you would prefer to talk to a person, you can always call and one of our awesome staff will be there to answer all your questions and help you place your order over the phone  
Whether you are in town, out of state, or even international and looking to send that perfect gift to your friends, loved ones, or co-workers, we are there to help with same day delivery. If you are staying home when you are sick and need that pick me up of fresh squeezed orange juice, a slice of birthday cake for that quarantine birthday, a freshly torched crème brulee, or even just a big ice cream macaron to help you feel better, we have contactless delivery just for you. 
If you order directly through us, we have a base delivery fee of $10 for the first 10 miles and then $20 plus $1.00 for each mile outside of the base delivery radius. Orders of $150 have complimentary hand delivery service for up to 30 miles away from our store. We are also one of the only bakeries that does residential delivery directly through the store. So, come and order that cake online for delivery for you are for someone else and try all of our amazing products while you are at it.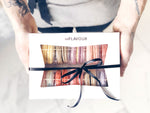 TAKE-OUT & CURBSIDE PICKUP
We have contactless curbside pickup for that quick grab and go moment! Whether you need it for running to work, hosting a quarantine birthday party, or even just because you are running a list of errands, we are happy to help you any way we can. Everyone needs that quick pick me up, so why not treat yourself to that perfect cup of coffee while you take care of the rest of everyday life? 
Order using:  
miFLAVOUR mobile app 
miFLAVOUR website 
Calling to place order over the phone
Once you have placed your order for curbside pickup, we will complete your order in store and have packaged and ready to go for when you arrive. Simply call us in store when you arrive, and we will bring out your package of delicious goodies!