WHOLESALE INQUIRY
Join our other stores, restaurants, and coffee shops to help spread our products throughout the nation!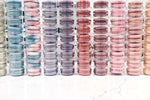 Join Our Wholesale Program
We are excited to hear that you are considering to carry our products at your business. As much as we would love for every business to carry our products, we have certain requirements each account has to meet.
10 Requirements used to evaluate new wholesale accounts
1. Company vision aligns with miFLAVOUR's vision.
2. No conflict of interest between other wholesale accounts.
3. Meet minimum order requirements.
4. Gross sales from miFLAVOUR product won't exceed 30% of company sales.
5. Must be a registered business.
6. Have a Federal Identification Number tied with residing state.
7. Be in good standing with the Department of Revenue.
8. Ensure miFLAVOUR Wholesale Program is accepting new accounts.
9. Established as reputable company.
10. Pass interviewing process.
Fill out and submit the Wholesale Program Application at the bottom of this page. If you pass initial screening, we will get in touch with you with additional information. We are excited to work with you!